Vocational Education and Training
VET Courses
Students in NSW have the option of studying VET courses at school or through TAFE NSW or other training providers. NESA package and endorse courses based on qualifications from national Training Packages or accredited courses. VET courses can only be delivered by registered training organisations (RTOs) that meet national standards and have the relevant qualification and units of competency on their scope of registration. For NSW school students in Years 9–12 VET is 'dual accredited'. Students receive recognition towards their school qualification (Record of School Achievement or HSC), as well as a nationally recognised VET qualification (Certificate or Statement of Attainment).
At Xavier High School we consider VET to be an important pathway for students who wish to pursue their areas of passion in a variety of industry supported arenas.
Vocational Education
(including VET Frameworks courses)
It is possible to do VET subjects as 2 Unit or 1 Unit courses. As VET subjects are not Board Developed, only 2 units of VET courses can contribute towards an ATAR.
All courses will include an optional written examination in the Higher School Certificate in addition to the other requirements of the course. If you wish the course to count towards an ATAR, you must sit the HSC examination in that course.
The vocational (VET) courses being offered at Xavier in 2018 are
Hospitality
Primary Industries - Horticulture
Information Technology
Construction
Retail Services
Business Services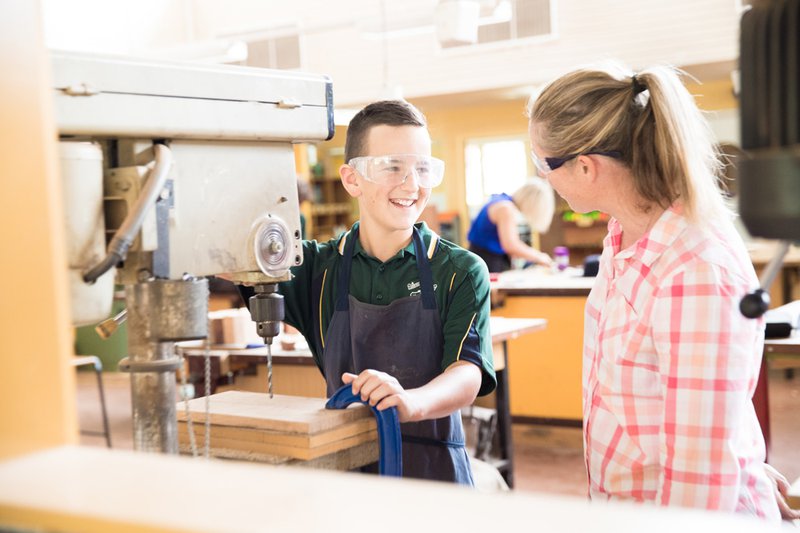 Each of these courses contributes towards a HSC and any one can be included in an ATAR. Each course earns the student Industry Accreditation as well as TAFE recognition for each completed course.
Those students interested in a HSC leading to university are able to include only one of the VET Frameworks courses as part of their ATAR.
There are also three Stage 6 VET Courses which can be pursued as a course of study, however, cannot count towards an ATAR. These are
Active Volunteering (Preliminary only)
Fitness (Preliminary and 12)
Skills for Work and Vocation (Preliminary only)
Please note that Active Volunteering, Fitness and Skills for Work and Vocation will require a small portion of offline course work. This will total approximately one hour per week. Full completion of Active Volunteering and Skills for Work and Vocation will occur in Preliminary, whilst Fitness will require two years of study across both Preliminary and HSC should a student wish to fully complete the course.
The Vocational Education courses have been developed especially, but not only, for students seeking employment after Year 12 or non-university HSC aspirants.
The 240 hour courses usually involve work placements totalling 70 hours. If required, work placements may occur in student vacations. Students who work in a course related occupation can count the hours worked towards work placement hours.
VET courses are popular and successful in the Wagga Diocese. Across NSW one in three students takes a VET subject as part of their HSC; the figure for the Wagga Catholic Diocesan Registered Training Organisation (RTO) is higher than the state average.
For students not intending to go to university, the Vocational Education options may better prepare them for the workforce. Students can leave school at the end of HSC with a list of competencies employers can recognise and feel confidence in the student's ability to perform. The work placements offered in the Vocational Education courses involve specific tasks being completed or competencies gained. The courses give credit transfers to TAFE with up to one third of trade qualifications being done at school. Employers are keen to employ students with work skills and TAFE credits. It is becoming more common for apprenticeships to have HSC as a minimum.
The Vocational Education options ideally mean that school is not too theoretical for some students. At the same time school is difficult enough for students to feel challenged: it is a place where they work hard and gain confidence in their ability to succeed on both practical and academic levels. The self-esteem needs of some students can be better met via these less theoretical options. Students can get higher marks and be more realistic about their future prospects.
There are other Vocational Education courses available through TAFE, which may be combined with your school studies. Information is available from the VET Coordinator or TAFE.